Table of Contents
Professional Laser Light factory
Mature product system and team
Frequent appearance in large-scale projects
Future opportunities outweigh challenges
Professional Laser Light factory
In recent years, as the epidemic subsides and consumption upgrades, the concept of "night travel economy" has been proposed, and the light show has returned to spring. The hot spiritual and cultural consumption has also prompted more lighting equipment to be used in landscape lighting and cultural tourism markets. Among them, the laser show has become a form of expression that is popular with the common people. Mr. Tony Chen , general manager of GUANGZHOU NEW FEEL LIGHTING EQUIPMENT CO.,LTD (hereinafter referred to as " Newfeel ") , a comprehensive high-tech enterprise focusing on the R&D and production of laser equipment and water show fountain engineering , has a deep understanding of their laser products The latest technology and some water show special effects.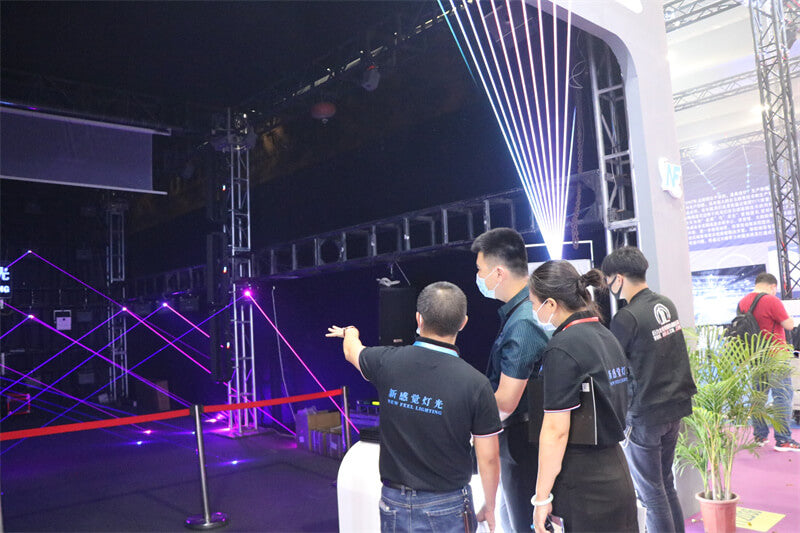 Mature product system and team
It has only been 15 or 16 years since the laser entered the domestic market with a mature product system and team , and Newfeel has also worked quietly in the laser field for about 13 years . Years of operation have allowed Newfeel to form a full range of indoor and outdoor product systems and a professional technical team. One-stop service from product R&D design, production, assembly, installation, effect debugging, and program synthesis. The light sources (also known as lasers) of Newfeel 's laser light equipment are all self-developed, designed and packaged. According to Tony Chen , at present, about 70% of domestic laser manufacturers still use traditional pump source lasers as light sources, while Newfeel uses imported (Nichia) LD diodes. The two are fundamentally different. Tony mentioned that mainstream foreign laser manufacturers also use the same LD diode light source. The advantages of using LD diodes are: long life (20,000-40,000 hours) , low light decay, good stability, good cold resistance, color more pure.For example, this
F9 Series laser lights
can meet the needs of any small and medium stage.
Newfeel also has its own hardware factory. From the R&D and design of lasers, packaging, to the shell of lamps, etc., all of which are exclusively completed by Newfeel . Every link is strictly checked by professionals to ensure that every piece of equipment shipped Quality up to standard. Several products mainly promoted by Newfeel have applied for use-type patents and external patents. The products have passed the EU CE certification, the US FDA certification, and third-party testing agencies. In addition, when selling, Newfeel not only provides products, but also helps customers design effects, customize content, and write corner scripts based on local folk culture. Now Newfeel has a design team of ten people, and the effect of each project is designed by the team.
Tony said that for the application of outdoor animation effects, laser lights have obvious advantages over projectors. The most important points are that the cost of projectors is high, and the cost of producing film sources is expensive, while the cost of laser lights is relatively low. At the same time, the projector has relatively high requirements for the imaging carrier. The surface of the carrier needs to be relatively flat, the distance should not be too far, and the color of the carrier should not be too dark. It is difficult to brighten trees and mountains. The application carrier range of laser light is relatively wide, whether it is mountain, building, ground, water surface, woods, etc., it can be applied regardless of whether the carrier imaging surface is irregular or not, and the longest distance can reach 800 meters.Just like our F5600
Waterproof laser light
, it is easy to construct and install, and there is no need to add any protective measures to use the equipment outdoors for a long time
Frequent appearance in large-scale projects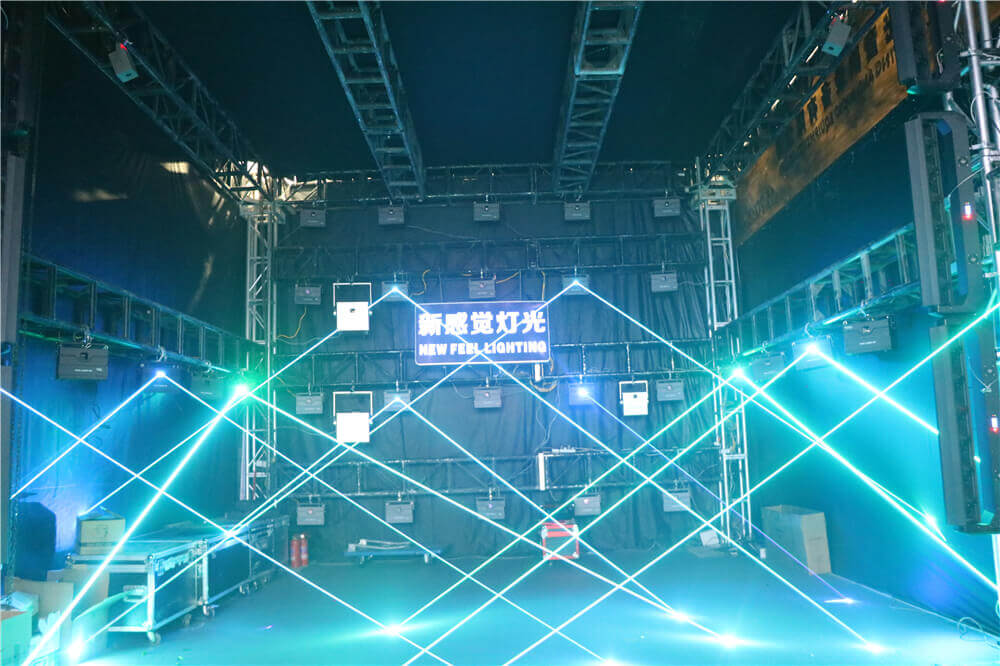 Newfeel 's products are mainly divided into two series, stage performance series and outdoor engineering series . The sales market is mainly domestic, accounting for about 70% of sales, and foreign markets account for about 30%. The foreign market is mainly aimed at the stage performance market, mainly exported to the United States, Japan, Europe and other countries. The domestic market is mainly used in landscape lighting, cultural tourism, and stage performances . The main focus of products is quality. Tony said that at present, some large-scale projects in China pay more attention to product quality in product selection, and have clear requirements for dustproof, waterproof, and cold resistance. Among the projects that Newfeel participated in, the coldest ones are in Russia, Northeast China and Inner Mongolia. The products must operate normally without any external thermostat in an environment of minus 50 degrees.
Last year, the lighting improvement project in Shenzhen attracted much attention in the industry. Among them, the Shenzhen Bay lighting project used Newfeel 's laser products (a total of 17 sets of high-power laser equipment were used in the entire project). According to Tony , in this project, more than a dozen companies in the same industry were competing for laser products, and finally Newfeel stood out among them and became the only supplier of laser equipment for Shenzhen Bay Brightening Project. Tony believes that the advantages of Newfeel lie in the craftsmanship and quality of the products, from light source technology, master control system, and effect production; to worry-free and cost-saving after-sales service, etc. After a comprehensive comparison, the owner finally chose Newfeel.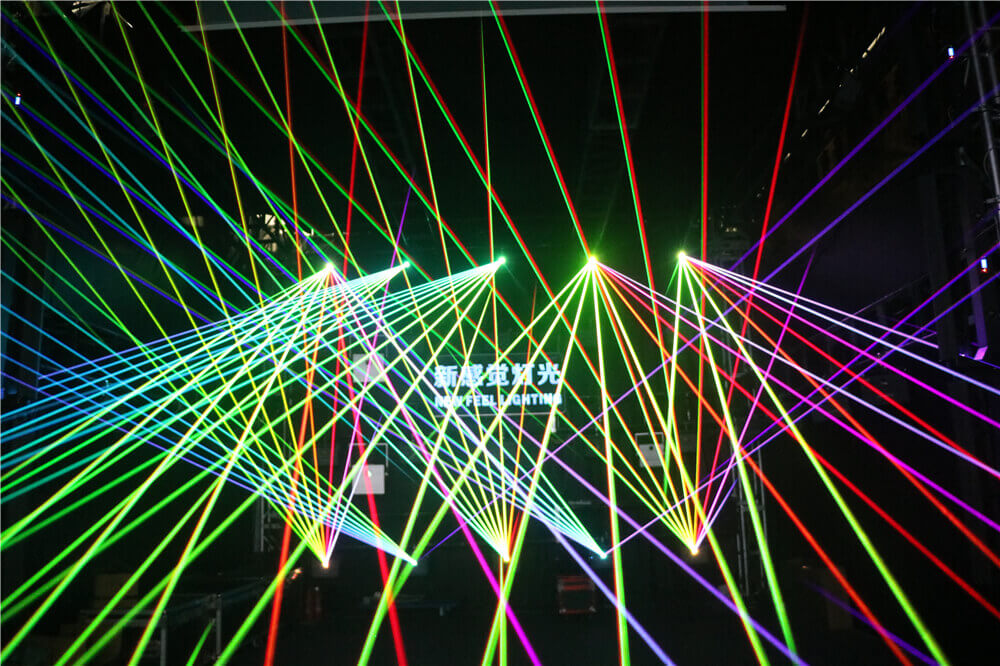 In addition, Newfeel has also participated in many large-scale projects. In addition to outdoor lighting, more demanding stage performance projects are also involved. In the CCTV global music list project, because it is a live TV program, the program requires equipment with very high requirements for camera white balance. Newfeel adjusts the control system and the internal accessories of the laser lights so that the laser effect is very good when the camera is in direct view. presentation.
In the past two years, driven by policies, the growth of people's spiritual needs and the influence of economic development, cultural tourism lighting projects have been very popular. As a laser equipment manufacturer, Tony is also very optimistic about the prospects of the cultural tourism market. Tony mentioned that laser equipment was first used in stage performances, and now it is used in outdoor cultural tourism. In this regard, Newfeel has also made a full layout. Many products are launched for the cultural and tourism market. Whether it is lighting, landmarks or outdoor advertising, Newfeel has corresponding products.
In the next 3-5 years, Newfeel hopes to make its products more professional and highlight its advantages. Expanding its leading edge in the outdoor cultural tourism industry, Tony said that water shows are actually used a lot in outdoor lighting projects, and some bridges also need water shows for their effects. He believes that these also belong to the category of lighting, which can be expressed in a variety of ways, such as wave light spring, numerical control water curtain, water curtain film, fog forest, fog forest fire, shout spring, fire spring and so on. Therefore, the future products will definitely be more abundant, and the performance of the project will be more diversified.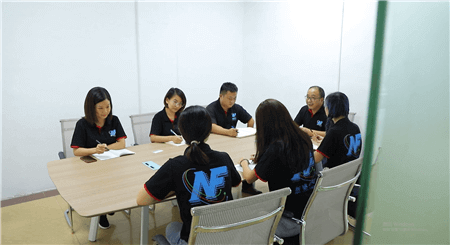 Future opportunities outweigh challenges
Tony said that since laser equipment is a special effect product, the industry as a whole is not very large, and there are not many domestic and foreign manufacturers. The biggest challenge Newfeel is facing now is that the industry is not standardized and there is no clear product standard. But he said that for projects that pursue quality, Newfeel has obvious advantages. "If you only look at the price, the pressure will be great. Especially for indoor low-power laser lights, the technical content is low, and the requirements for products are not high. But for outdoor high-power products, enterprises without core technology cannot do it." Tony said.
On the other hand, changes in the general environment may have an impact on the industry at any time. Just like the rapid development of cultural tourism projects in the past two years, it has an inseparable relationship with national policies. As a supplier, Tony will also consider whether once the policy changes, whether it will affect the project, whether the popularity will fade, and whether the project will be reduced.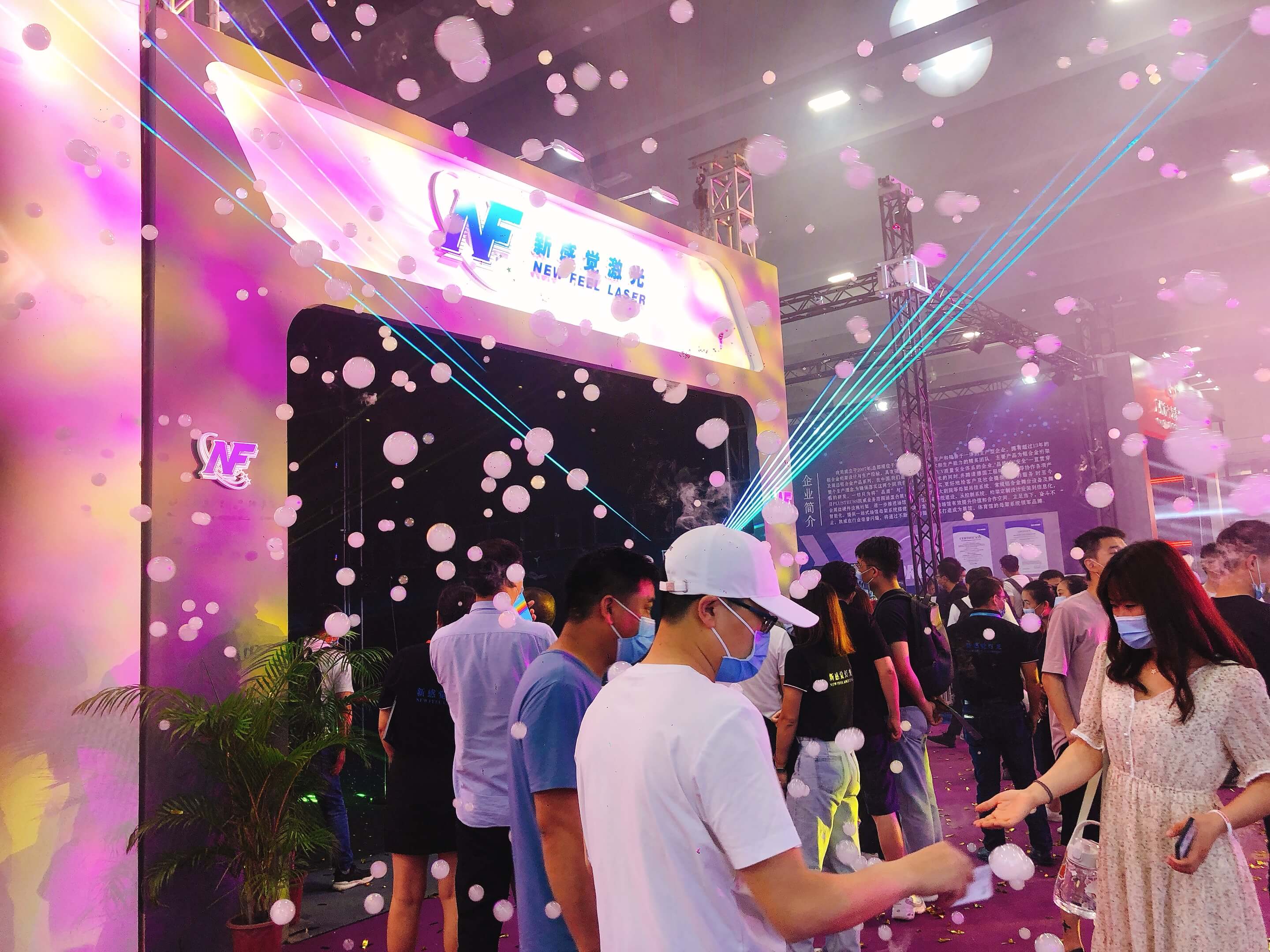 Despite the difficulties and challenges, Tony believes that the opportunities outweigh the challenges. He mentioned that there was no demand for outdoor landscape lighting in foreign countries, but in the past one or two years, these projects have gradually begun to appear. For example, building lighting has begun in Europe. This is also an opportunity for Newfeel. Newfeel has full confidence in its own products and technology.
The application fields of laser are very wide, and there is demand from first-tier cities to third- and fourth-tier county-level cities. With technological breakthroughs, the value of laser products is no longer as high as before, and many cities can afford it. Tony believes that products like water shows are also popular among the people, and the government is willing to do it, making a water show and a light show to enrich the entertainment life and spiritual needs of the people.
Nowadays, the quality of products is getting better and better, and the demand will decrease accordingly. Enterprises need to adjust their direction and make innovative products that cannot be replaced by others. Tony said that Newfeel has a mature team and will continue to focus on research and development in the future. The laser will be the most professional and the application of laser lights will be more diverse.