Table of Contents
What is laser performance equipment?
Outdoor and indoor laser light projection equipment
Home Entertainment & Professional Laser Show Lights
Professional laser show for public events. Laser Safety First!
Laser show lights & laser show equipment
We usually refer to laser show lights, and professionals call them laser show projectors or systems. Laser show lights emit a laser beam or beams in the visible spectrum, working in a beam-correlated fashion. You may be wondering what laser light equipment you need for an outdoor laser show, how much home entertainment laser equipment costs , and what budget to consider if you choose a truly professional laser projector equipment like NEWFEEL . We're here to explain some of the basics for you.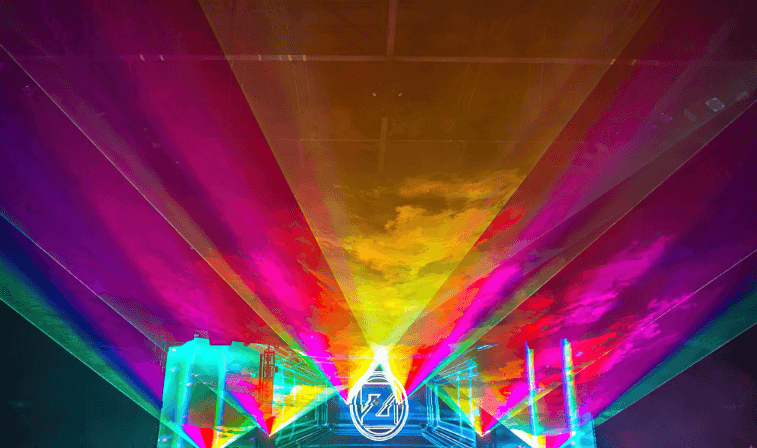 1. What is laser performance equipment?
Generally used for laser performance equipment can be roughly divided into 5 categories:
1.Laser show light/display system (laser show projection system) - specially designed and manufactured equipment for projecting moving (scanning) laser beams, starry sky laser effects, laser graphics such as text, logo and animation , etc. , such as our NF660 series
laser lights
of products.
Professional-grade indoor and outdoor laser projection equipment is relatively expensive, although you can probably buy so-called "laser toys" for a few euros . The important thing to know here is that the most expensive is not necessarily the best. Large-scale outdoor laser show produced by high-power NEWFEEL laser show projection system
2.Laser Beam Lights/Beam Wands/Static Beams - These cannot be called laser projection systems as their main and often only purpose is to emit a single static (non-moving) laser beam or multiple beams (multiple beams output simultaneously ) . These laser show lights are usually equipped with some additional effects, such as diffraction gratings.
These effects can make the laser beam move in a certain way or change its appearance. But since these controls and effects are not produced by the scanning system, they are not scanning effects, so these laser show lights do not fall under the category of laser show projectors. There are hundreds of laser show lights of all kinds on the market, and many may be good enough for small private parties, family celebrations, and discos.
However, only a handful of manufacturers currently produce high-quality lasers Projection system for concerts, tours, TV shows and other public events.While there are a few manufacturers that have done quite well over the past few years, the quality of laser beams, control systems, scanning systems and functional safety features (which is very important ) still differ significantly from the top European manufacturers.
3.Laser Projection Control System - Typically includes a control port and compatible laser control software and allows data communication between the controlling computer and the laser show projection equipment.
The latest trend in the laser projection equipment industry is the built-in control box, which eliminates the need to use bulky ILDA cables to connect the control box and laser projection equipment.
4.Smoke and Fog Machines - Haze and smoke (as well as natural fog, fog, rain, dust and snow) are all perfect mediums for laser shows. Because they allow humans to actually see lasers. The laser reflects particles of these elements, That's the only reason we can see lasers. Without them - eg in a vacuum, we cannot see laser light at all.
In most cases, it is better to use a fog machine than a smoke machine because they produce a lighter, finer fog, And disperse longer in the air.
The fog from smoke machines tends to be very thick, descends faster, and usually leaves a sticky and slippery residue everywhere around it,including sensitive laser show equipment.
5.Laser Projection "Screen" If the goal of a laser show is to display some laser graphic images, text or animation, some kind of projection surface that we project onto or put into it will be a necessary part of the projection. And most of the time the projection surface will be some type of wall, some scenes more fancy projection medium will be more suitable.
Laser projection onto water curtain
(or through ) nearly invisible gauze, rear-projection screens, holographic films, and even some light-emitting textile materials like phosphors . It can also be projected onto water screens, fog screens, heavy rain and fog or snowfall . Every projection medium/medium will be special and unique in its own way, and offer plenty of possibilities for experimentation . We need to choose the corresponding equipment according to the use location, demonstration purpose, function, etc. of the equipment. Every laser equipment user should evaluate which equipment is best for the results they need to achieve.
Mobile DJs mainly perform in smaller indoor environments, seating up to a few hundred people, and the type of laser show equipment they might want to use is naturally different than a famous music band (with audiences in the tens of thousands) on a European tour.
2.Outdoor and indoor laser light projection equipment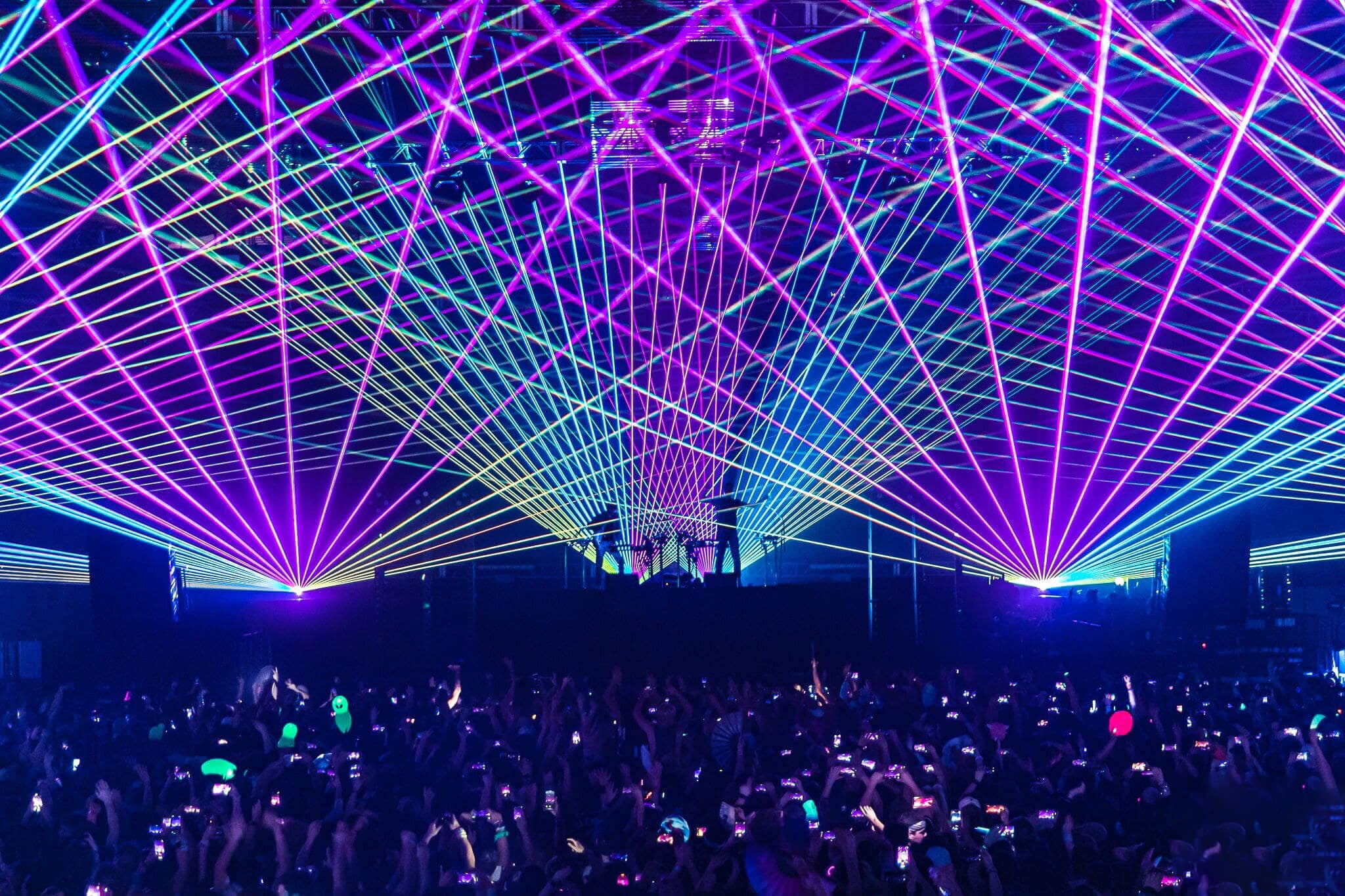 For large public outdoor performances, all laser projection equipment must be professional grade, with all safety features, Higher specs are weatherproof or at least waterproof rated. Not only does the laser equipment need to be rugged, but all power and signal cables must be rugged enough and certified for outdoor use.
When it comes to laser projection equipment, there is one basic rule that applies to outdoor laser projection: higher quality laser power is better!
From this point of view, our NF3600
laser projection
system is perfect for these types of projects.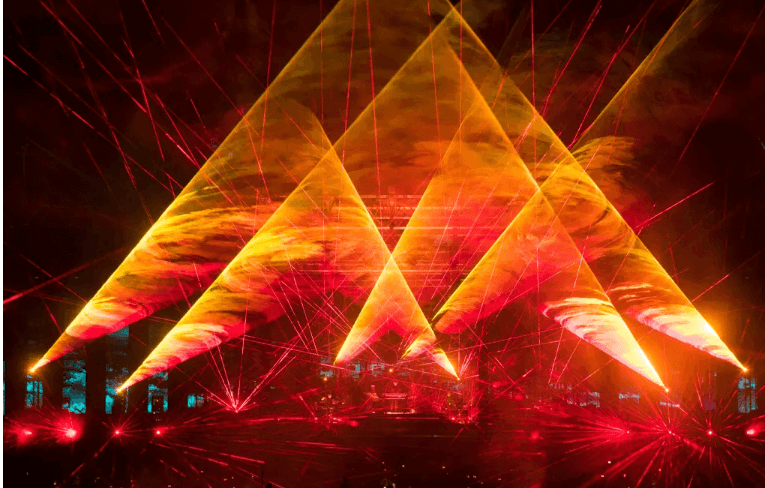 Whether it is an indoor or outdoor laser show, the laser control system must be reliable and in the hands of programmers and operators.
The best way to professionally control a laser system for large outdoor and indoor events is local control from a lighting console via DMX or ArtNet . All NEWFEEL systems can be controlled via DMX, ArtNET and via the Internet, and information on all laser light libraries can be found on several major lighting console websites.
Fog machines for outdoor laser shows are fairly large and heavy machines. Since it's nearly impossible to predict exact wind conditions, it's best to provide some sort of artificial haze or smog to ensure laser visibility.
The best projection "screen" outdoors would be a fog after a heavy rain, but we realize this isn't always achievable at the discretion of the human mind. Whereas a large water screen over a lake or river is something that can be done and will provide a huge and cool laser or video projection area for the event.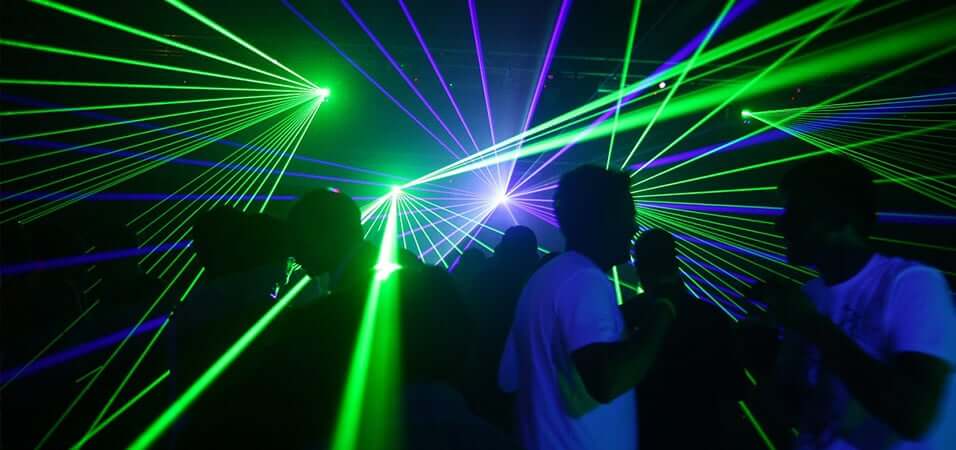 3.Home Entertainment & Professional Laser Show Lights
No one wants to get injured by using laser equipment, it is often dangerous and can cause permanent blindness if they are not working properly or handled correctly.
When using lasers at home and entertaining yourself, family and friends, you can place the laser light where it will avoid direct eye contact . We strongly recommend the use of professional equipment and strict adherence to all laser safety regulations, and while our range of party laser lights are safe, I need to remind you of this.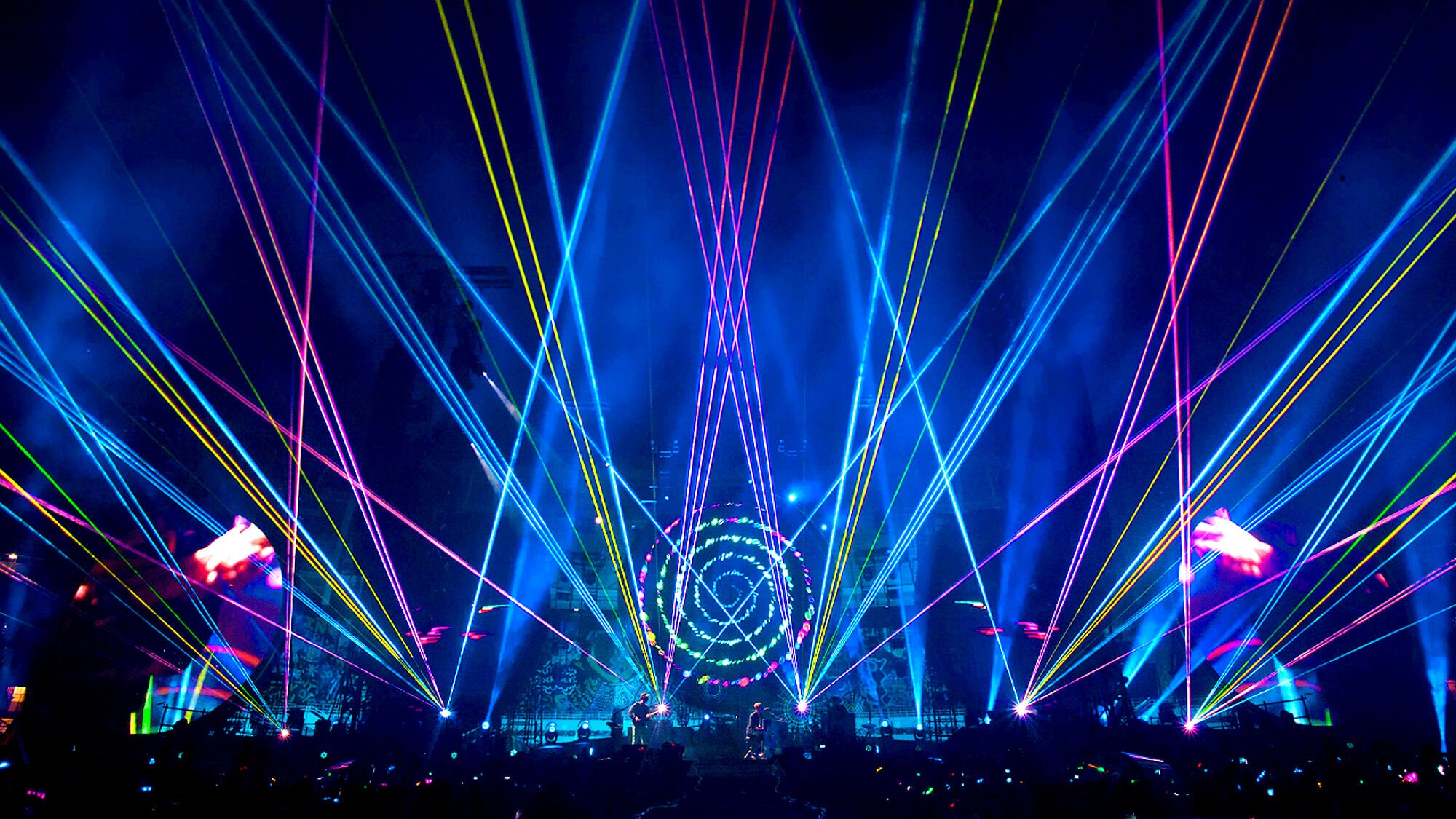 4.Professional laser show for public events. Laser Safety First!
But putting on a laser show for the general public is completely different, and not using professional grade laser show equipment that is reliable and includes all the safety features required by law can put you in a very serious and life changing situation!
The most important difference between non-professional and professional laser show equipment is not the price, size or weight of the equipment. It's about product reliability, functionality, laser safety, and projection beam quality.