Table of Contents
4 lens voice control LED stage laser light
Important reminder
Appearance and structure
Colors and patterns
4 lens voice control LED stage laser light
Stage light professional DJ laser light 4 lens voice control LED stage laser light effect party music light DMX control is used for discotheque bar stage lighting.
Multi-effects-The new version 4 lens laser RGBY beam lamp is compatible with DMX 512 system, creating hundreds of pattern lighting effects
Shutdown function: The panel of the machine has LED sign and it is in sound activity mode. When the music stops, the unit will turn off after 8 seconds.
Special functions-DJ lights have a master-slave function, and multiple units can be linked under this function. It enables the product to work synchronously in automatic or sound activated mode
Upgraded light source——The product adopts diode pumped solid beam, which is more stable and durable, while ensuring clear color resolution
Important reminder
Due to long-distance transportation, the lamp beads may sometimes not work properly, please contact us immediately, we will reply you as soon as possible and tell you how to install; if there is no music around, the stage lights will make a slight noise when working.
Whether you are a family party phone streaming dj or a professional wedding/event lighting coördinator, this stage light will be a welcome addition to your lighting equipment library.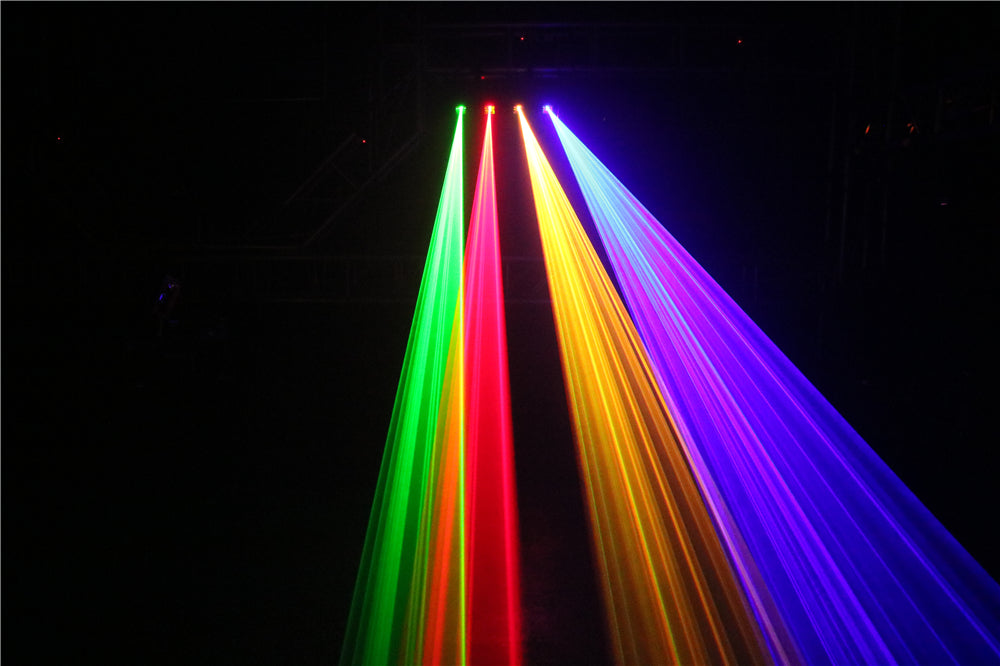 Appearance and structure
heavy metal! The lamp has a metal shell and a metal bracket for installation. This is important because the weight of mirrors, motors, fans, and laser panels with internal mechanisms of the device is important. Most of my standard can lights are made of plastic, which is enough for light-duty LEDs, but it requires heavy metals.
Don't make a fuss: some people like the calculator LCD and the buttons for setting the dmx channel number. But descent is simple, especially if you worked on a computer before the 80s and knew how to calculate binary numbers with 2. It's not a big problem for me, but I know some people prefer to tap tap until they get the number they want on the LCD and pray that it will keep the number in the solid state memory.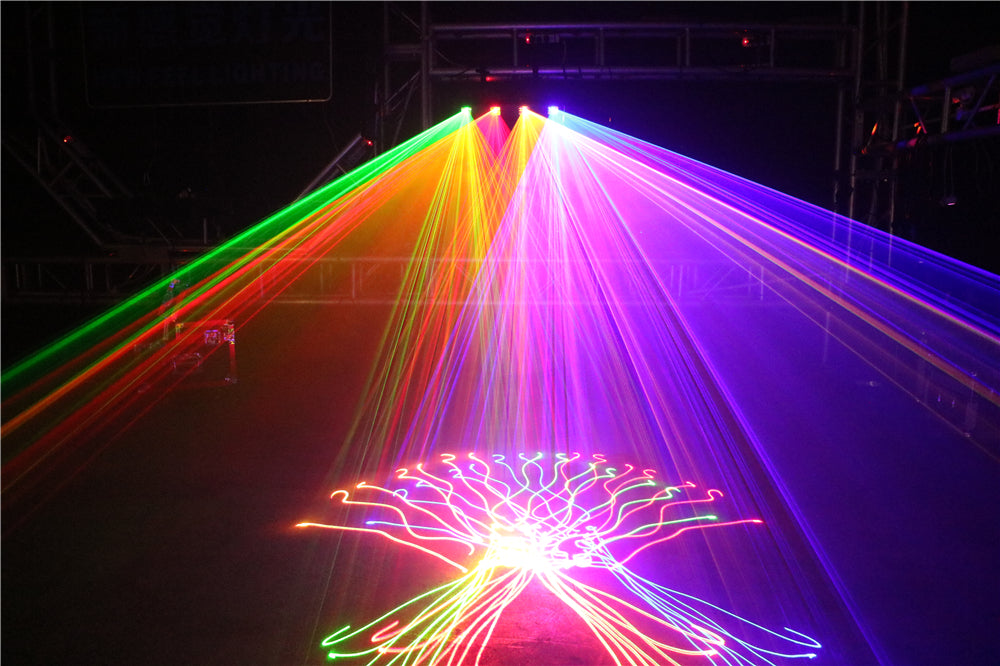 Colors and patterns
have a cool swing prediction! If I want to go from boring apertures and shadows to shaking and varying color laser patterns, then I can use the last two DIP switches to select sound or auto mode. Whether I point the laser at the floor or the ceiling, this light will attract attention.
The waveforms on all four lasers of Newfeel are excellent. By connecting it to a power bank for outdoor activities, it can actually be used anywhere. It was tested at home with 10 and a 300-watt power bank. Both do exactly the same. not bad. I can DMX or use it alone. Multiple operation modes. Parts and parts are well integrated, and the lines and gaps in the entire stage lighting are consistent. I have not found any manufacturing errors or parts anywhere. All the hardware included is installed in many ways.