Table of Contents
For any performance or event
Bluetooth Cell phone App DIY Animation RGB Laser light F2990-B 2000mW
F2990 RGB laser
Power of the diode
For any performance or event
Newfeel Laser's F2990 is the perfect choice for any performance or event, with various forms of laser lighting effects. Artists use laser scanning, darts and panning to create special lighting effects for audiences in parties, presentations or performances, because the lights move so fast that they can't see a beam of light, but can only see "special effects". DJs, mobile entertainers, theater companies, arcades, banquet halls and others can use animated lasers to create the atmosphere they need.
F2990 RGB laser light is also called "F2990 RGB laser projector". It is a device that projects changing laser beams in red, green and blue. Such a wonderful dynamic picture is very suitable for entertainment or professional use. These wonderful devices are mainly used in bars, small nightclubs, parties or private use. Some RGB laser lights are automatically controlled by the Bluetooth mobile phone APP, and some are in acoustic-optic mode. Let's talk about the sound and light mode.
As the name suggests, it is an F2990 RGB laser, the laser beam is synchronized with the music. The device can be individually aligned using a 4-point alignment system. This fact makes this laser suitable for all applications that must have many different tones and fades.
The above-mentioned laser is projected by the popular F2990 laser RGB. Crystal magic ball shape, high-quality aluminum, exquisite workmanship, durable, stylish appearance and stable performance. This rgb laser light supports automatic and voice control to increase convenience and make it suitable for effective lighting in gardens, ponds, swimming pools, balconies and outdoor areas. In addition, its price is only US$268! It's really a bargain, come and place your order!
Bluetooth Cell phone App DIY Animation RGB Laser light F2990-B 2000mW
The F2990 RGB laser projector is a laser projection system. It consists of three different light sources, one is red, green, and blue light sources, which are combined to form a F2990 RGB laser. These types of lasers are also called achromatic lasers or rainbow lasers.
RGB lasers are designed to produce millions of different colors and color combinations, because many F2990 RGB laser systems can display multiple colors at the same time. How many colors can F2990 RGB laser really display? To be precise, there are 16,777,216 different colors. Unbelievable, isn't it?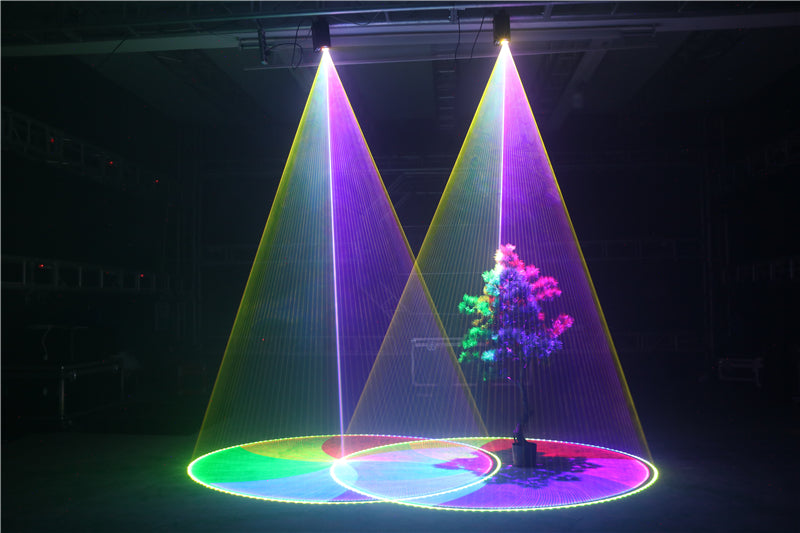 F2990 RGB laser
When we refer to the F2990 RGB laser, we just mean that the laser system has three different light sources (one for red, green and blue). However, there are many physical laser sources that can be used to generate laser light, including light sources such as DPSS, OPSL, and laser diodes.
The most commonly used light source for laser projectors is laser diodes because they are more affordable than similar products and have become the "standard" for the entire laser/illumination and production industries.Lasers using diode-based laser technology have become the standard, but manufacturers do not have a fixed way to produce and manufacture these lasers. This means that not all companies choose to use the same colors (ie wavelengths) and component types in the F2990 RGB laser.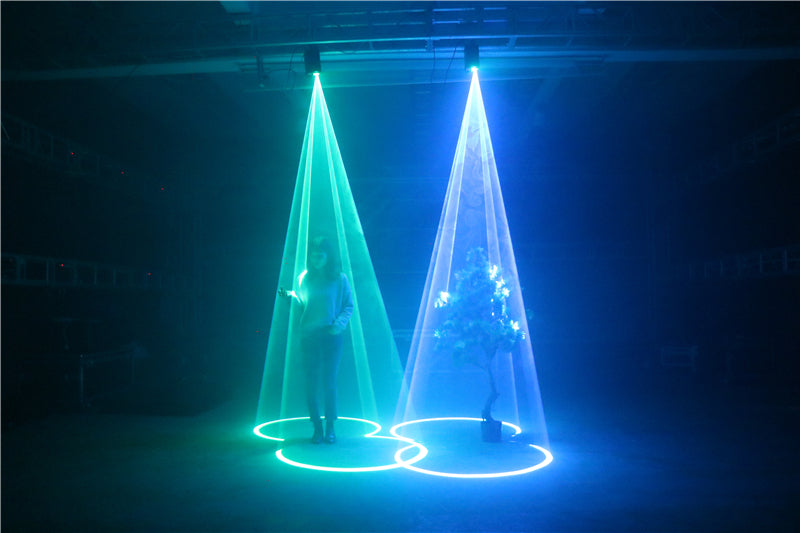 Power of the diode
Different laser diodes have different factors, such as the power of the diode, the true visibility of the human eye, and the need to combine each color to produce an appropriate color balance. If these laser systems are improperly configured and constructed, the results they produce will be far less attractive than using high-quality dido F2990 RGB lasers.
Our point is that it can become complicated, and not all laser projectors are the same. It is wise to conduct research on specific F2990 RGB laser projectors and brands to ensure that no money is wasted.
The so-called "F2990 RGB laser projector"-in the entertainment industry, is a laser beam that can emit red, green, and blue laser beams in one light at the same time, and modulate the intensity of each color at the same time => so it Thousands of secondary mixed colors can be output, covering most of the visible spectrum. If the F2990 RGB light laser colors are mixed in the correct ratio, the laser beam produced will be white.The F2990 RGB laser projector is also commonly referred to as a full-color laser display system or white laser.
The quality and accuracy of the secondary mixed laser color including white is determined by many factors, including the temperature stability of the system; the size, shape and divergence of the red, green, and blue laser beams; and the modulation performance of the laser module in the laser system . It is also important to use a high-quality laser control system (for example via ILDA, DMX or ArtNET) and set all parameters correctly in the laser control software, so that your full-color laser can operate in the best condition.
As with any type of laser display device (we are not referring to laser pointers), there are many cheap RGB lasers on the market, but few decent lasers, and some incredibly (and unnecessary) expensive lasers. At present, most of the laser sources in low and medium power lasers are semiconductor laser diodes. There are dozens of different laser diodes on the market that can be used for laser module manufacturing. The last price of an RGB laser projector will always say in some way the quality (but not necessarily astronomical) of the laser diode and beam shaping optical components used in that particular RGB laser projector.
The commonly used wavelengths of semiconductor laser diodes used in the manufacture of RGB laser projectors are red 635-660nm, green 520nm and blue laser 445-460nm. The output power of this type of laser module can be 1W, 2W, 5W or almost any wattage you like. At present, each laser color is up to about 30W.